Here's my "go-to" list of resources on African VC/angel investing and a bit of my commentary. Email me with other good resources at [email protected].
Data & Research
Benchmarking, Trends, and a Taxonomy of Investment in Africa (Founders Factory Africa / Briter Bridges, Oct 2020) – This report sets the table well. It provides a data-backed foundation to create an agreed-upon set of standards to approach, compare, and analyze investors' behavior and preferences across the continent.
Chasing Outliers: Why Context Matters for Early-Stage Investing in Africa (Kinyungu Ventures, Jan 2021) – Comprehensive qualitative research on early-stage investing, based on 100 in-depth interviews of investors, entrepreneurs, and LPs covers: (1) the fundamental mismatch between the Silicon Valley VC model and African markets; and (2) how funds and entrepreneurs have adapted accordingly. As an emerging fund manager, this report was my attempt to learn from those who've gone before me and to squeeze 15 years of learning into 1 year.
Angels in the Silicon Savannah (Aug 2020) – a practical how-to guide for angel investors focused on East Africa. Whether you're a newbie or have already done some deals, this guide grounds your thinking on angel investing basics and tactics.
Partech Annual Africa Report (Partech, Jan 2020) – While there are a few folks tracking investments, this one track $200k+ rounds. 250 rounds for 234 companies in 2019. (I'll update the link when the 2021 version is published)
AVCA Data & Reports – A good aggregation of several different research reports (~10 reports/year, and about half are members-only)
First-Hand Accounts & Deep Dives
How to get into Y Combinator – An African YC alumni Perspective (Tesh Mbaabu, Nov 2020)
Lessons learnt after 4 years fundraising and why we stop/pause/pivot (Eline Blaauboer, April 2020) – Eline is one of the smartest investors I know, and so I pay attention when she says she has decided to stop/pause/pivot.
Announcing $1million investments in 9 African Startups for Q3 2020 (E, Nov 2020) – yes, they actually did launch a fund in the middle of COVID and still wrote lots of checks. Also a good intro to a new fund structure – rolling funds.
Kenya – entrepreneurship, funding, and technology (Aadil Mamujee, Aug 2016) – An oldie, but goodie, and still relevant today. Aadil has made 40+ seed investments over 10 years.
Mira Mira On the Wall  (Mira Mehta, Aug 2020) – This is hard to read, and I almost didn't include it here, but it represents real sentiments about the frustrations of fundraising. "I know a few ppl raising money for their respective companies and I'm incensed by the stories they tell me"
The POEM Framework, a commercial assessment tool for start-ups (Tomi Davies, July 2020) – Tomi Davies is well-known as one of the earliest, most prominent angel investors on the continent. If you're just starting out, POEM is an easy framework to structure your due diligence.
The Chicken or the Exit –  (Osarumen Osamuyi, Jan 2021) A deep dive into the hidden assumptions behind African VC and exits. Great discussion on the need for venture models to match the stage of the ecosystem (not just the stage of the company)
Origins Podcast (Notation VC, on-going) While this podcast is US-centric, the content is all about LPs and is particularly insightful on the dynamics/challenges of running a smaller fund
Key Associations
Africa Private Equity & Venture Capital Associates (AVCA)
African Business Angel Network (ABAN)
Viktoria Business Angel Network (VBAN) – Nairobi
Newsletters / subscriptions
Briter Bridges their innovation maps / infographics really are worth 1000+ words.
BriterEYE: free monthly newsletter. Here's an example of a recent infographic on VC funding in Africa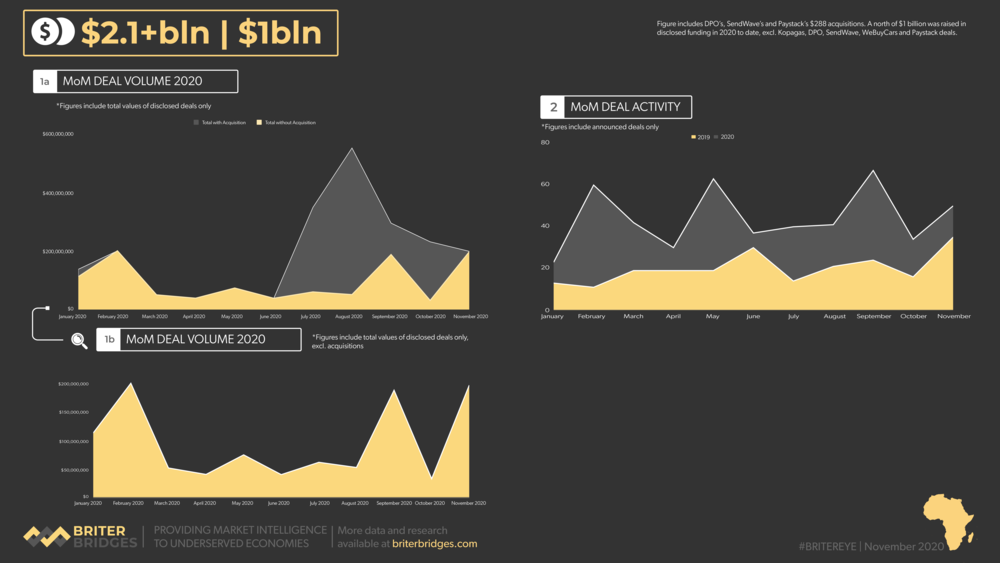 Briter Intelligence Intelligence platform on African VC deals
Baobob Insights free newsletter, data platform starts at $499/year. Love their infographics as well. Here's a recent infographic on remittance players: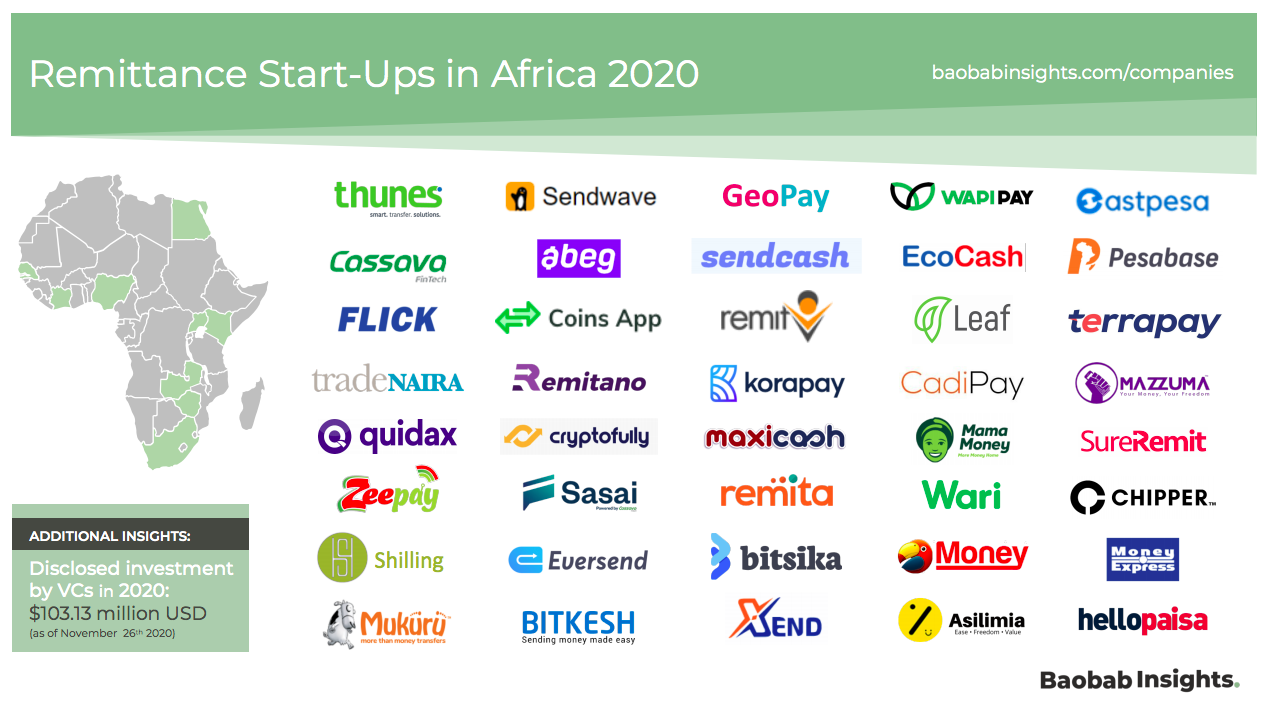 Africa Start-up Deal Database $70/year, updated monthly
I'm sure I missed some other good ones. Email me at [email protected].