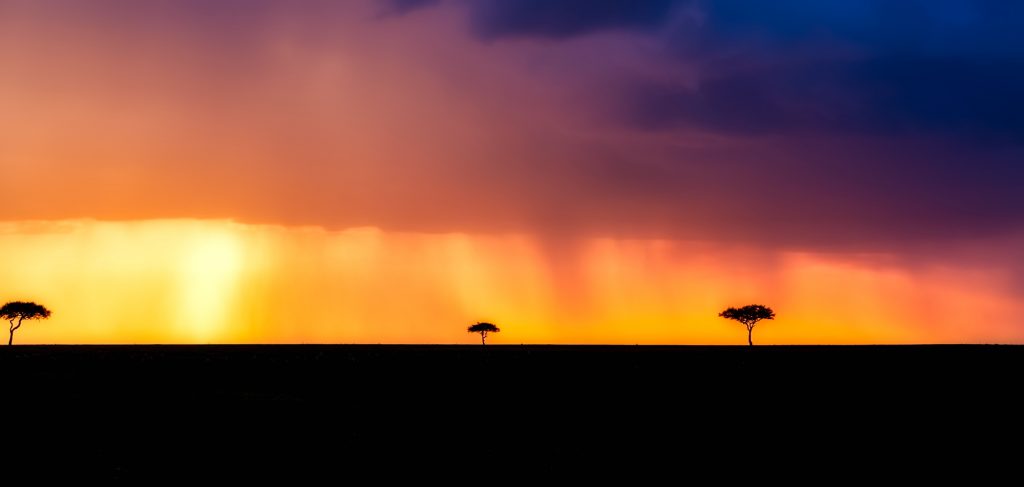 If you could start impact investing anywhere in Africa, where would you start? We're starting in Kenya – here's 5 reasons why.
1. Kenya continues to be a strong, stable, diversified emerging economy.
Kenya's GDP growth is a solid 6% per year.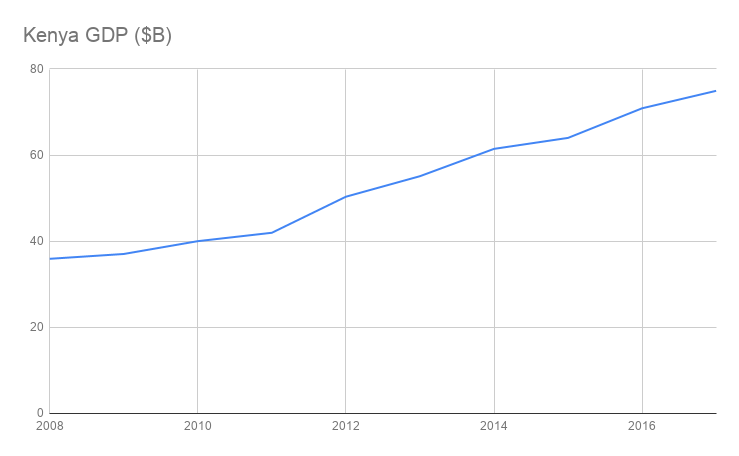 That's the 10-year view.  Now look at the 40-year view: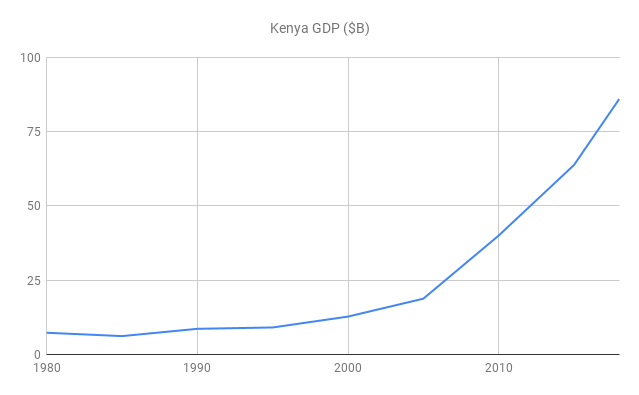 Nairobi in particular is a major hub of the economy, being the home of numerous multinational Africa HQs, such as Google, IBM, Coca-Cola, Toyota, and Intel and the East African HQs for MasterCard, Pfizer, Visa, Qualcomm, Cisco, BIC, and many others.
Kenya isn't a one-trick economy, boasting strong agricultural exports (tea, horticulture, coffee), a growing tourism industry (2 million visits/year), strong financial services, and improving infrastructure. And let's not forgot the $2.4B mobile banking powerhouse, M-Pesa — even in it's 12th year, it grew 19% last year.
2. Despite real political and market challenges, Kenya is one of the easiest places in Sub-Saharan Africa to do business.
The World Bank ranked all 190 countries in their annual "Ease of Doing Business" report, and only three countries in Sub-Saharan Africa are in the top third: Mauritius (#20), Rwanda (#29), and Kenya (#61). One could argue that Mauritius is more Asian than African, and serves more as a "fly-in-once-a-year-to-sign-documents" regulatory/legal safe zone. How Rwanda has advanced in just 25 years is mind-blowing, but its economy is 8x smaller than Kenya.
Over the past 5 years, Kenya is easily the "Most Improved" for "ease of doing business" in Sub-Saharan Africa, going from 136th in 2015 to 61st in 2019. While there are still plenty of emerging market challenges, going from the bottom 3rd to the top 3rd in the world in 5 years is absolutely astonishing. Why aren't more people talking about this?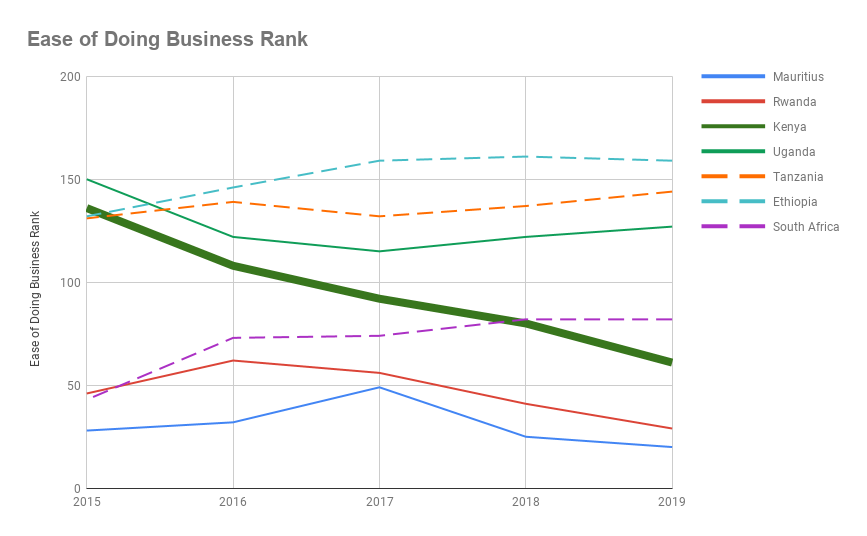 (Side note: these other markets also have plenty of opportunities — I'd consider them less mature, less crowded markets with higher risk/reward profiles. Also, I dashed the lines for countries that have gone backward in ranking over 5 years, though I suspect Ethiopia has a chance to rebound sharply.)
3. Kenya's start-up scene has pivoted to a maturing ecosystem, with stronger, more frequent later-stage funding.
I've written extensively on the maturing start-up ecosystem. Bottom line: Kenya has pivoted past the "overhype" phase and seasoned ecosystem players are now wiser,  stronger, and have achieved real success.  Here are the $1M+ deals in 2018.
| | | | | |
| --- | --- | --- | --- | --- |
| Company | Latest Round | Date | Series | Sector |
| Twiga Foods | $10M | 11/2018 | Series B | AgTech |
| BitPesa | $5M | 11/2018 | Series B | FinTech |
| PayGo Energy | $3.5M | 8/2018 | Unknown | Energy |
| Sokowatch | $2M | 7/2018 | Seed | Retail |
| Cytonn Investments | $21M | 6/2018 | Unknown | Real Estate |
| Little Ltd | $10M | 6/2018 | Unknown | Transportation, App |
| Cellulant | $47.5M | 5/2018 | Series C | CommTech |
| Mobius Motors | $6M | 4/2018 | Unknown | Transportation |
| mSurvey | $3.5M | 4/2018 | Series A | Martech |
| Africa's Talking | $8.6M | 4/2018 | Series A | Telecomm |
| Big Square | $4M | 3/2018 | Unknown | Retail/Hospitality |
| M-KOPA | $10M | 3/2018 | Unknown | Energy |
| Sendy | $2M | 2/2018 | Series A | Logistics Tech, app |
| Mondo Ride | $5M | 1/2018 | Unknown | Transportation |
As you can see, there were also some mega $10M+ deals.
4. Early-stage investment and small businesses continue to be underserved.
The gap in the market we see is two-fold – the missing middle and the missing majority.
The missing middle is early-stage ventures. There are so many accelerators to help entrepreneurs develop early ideas and become more investable. And there are so many groups writing $300k+ checks. But very few smaller deals in the middle. While these deals typically happen away from the spotlight, our research has unearthed less than 10 groups who have done more than 5 deals in this middle $50-300k segment.
The missing majority are "silently successful" small businesses.
These are longer-term businesses that don't have 20x potential (and hence will never attract VC attention), but could still 5-8x in 10 years. Often times, they are already profitable, hiring more workers, and yet lack growth or working capital. These make up the engine of the Kenyan economy, and yet they are massively underserved by banks.
By investing in the missing middle and the missing majority, opportunities abound to catalyze follow-on investing, build a more inclusive, vibrant economy, contribute to growth for decades to come, and create sustainable jobs.
5. Relationships, relationships, relationships
Business runs at the speed of trust. Our trusted network runs the deepest in Kenya. There's nothing like having one on one coffee meetings, sharing stories, finding alignment, and slowly building trust.
Further Reading: